We have 6 automatic belay devices in Slough Climbing Wall. The automatic belay devices became more and more popular in indoor climbing centers. It's a great option, if you don't have a climbing partner. Most climbers love to use them, but some don't... Let's see why is that?
Some customers are confused about how the system works and what is the main difference between activities using only automatic belay devices, such as Clip&Climb and the more 'traditional' climbing systems, such as 'top rope'.
What's the difference between automatic belaying and more 'traditional' rope climbing?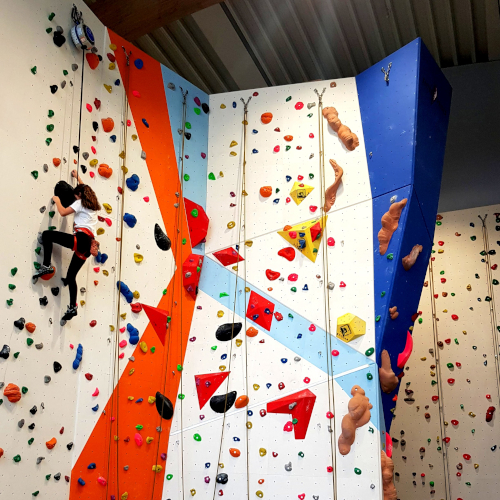 The main difference is, that using automatic belay devices, we don't have the 'luxury' of a real climbing partner being in control of the rope. The machine's only job is to slow down the lowering speed to around 2 metres per second. Automatic belay devices are great tools, but they need some time to adapt to the mechanism and build climber's confidenceto use them properly.
The more 'traditional' climbing approach using climbing ropes, allows to fully control the speed of lowering as well as hold the falling climber at any point by the belayer who controls. Competent belayer or professional climbing instructor can help building climber's confidence easier and faster, by taking the climb in stages and allowing some rest during the ascent. We recommend this option for all novice and beginner climbers, regardless their age.
In conclusion the main difference is:
- automatic belay devices don't stop the falling climber.
- traditional belay devices can stop the falling climber at any point.